Extending the reach of CCTV
Recent years have seen a boost to CCTV being provided over IP networks. Where security and IT were once separate entities, they now operate concurrently (for the most part). But it isn't just businesses that have CCTV, consumers have it too.
Mostly, because CCTV is becoming easier to deploy but that isn't the only reason. Businesses and consumers have an increased awareness of the need to protect their property. CCTV cameras powered by PoE provide a flexible, easily installed and cost effective solution.
Motion sensitive cameras with either digital or mechanical pan-tilt-zoom (PTZ) functionality can record only when they detect movement, they can follow the subject around and even ping your smart device to let you know what is going on.
The Challenge
Unlike the more traditional Closed Circuit TV cameras that use dedicated coaxial cabling, IP cameras can utilise the same cable that your PC does. Or your laptop. Or NAS device. The only inherent flaw with that is the limitation of copper cabling. Most cabling installers prefer to keep cable runs at 90 metres or less to provide the best performance – some even restrict themselves to 50 metres.
This is great for PCs requiring network throughput to the local intranet server cluster, but it is fairly unhelpful for CCTV. In order for most to get past the limitations of copper, a secondary switch, or repeater, is put in place before the next run of 50-90 metres. Not exactly cost effective.
The Solution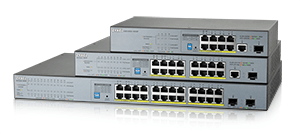 This is a good time to introduce the ZyXEL GS1300 & GS1350 series Surveillance Switch. Specifically designed for the CCTV industry with high PoE budgets and the ability to drive that power over extended distances – up to 250 metres.
There are three versions of the GS1300 series, offering 8, 16 and 24 ports and with PoE budgets ranging from 130W to 250W, gives them more than enough capacity to support most IP surveillance cameras.
In contrast, the GS1350 smart-managed variant offers 4 models with support for between 10 and 24 ports with a PoE budget of up to 375W. Additionally, the GS1350-6HP offers support for IEEE 802.3bt – allowing from 55W to 100W by utilising all four pairs of the copper cable.
These devices also come with web-based software and pro-active monitoring that will alert the administrator if a camera develops a fault or powers down. In such cases, the software can be configured to attempt a fixed number of camera reboots. Further, if the switch is rebooted or reconfigured, the PoE supply is maintained to the camera reducing any outage associated with a camera reboot due to PoE loss.
Header Photo by Scott Webb from Pexels